november 11th, 2003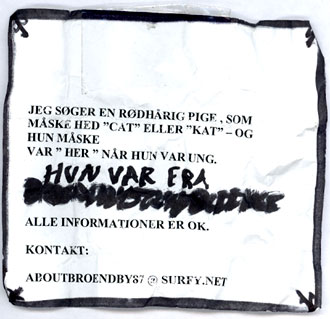 found this note on the pavement on Jagtvej where I live.

translated, it says;

I'M LOOKING FOR A REDHAIRY GIRL, WHO
MAYBE WAS CALLED "CAT" OR "KAT"- AND
SHE MAYBE
WAS "HERE" WHEN SHE WAS YOUNG.
SHE WAS FROM
xxxxxxxxxxxxxxxxxxxxxx
ALL INFORMATION IS OK.

CONTAKT:

ABOUTBROENDBY87@SURFY.NET

this is interesting. The first line establishes
that someone is looking for a redhairy girl - not
redheaded but redhairy. It sounds very strange in
danish. And then she 'maybe' was called Cat/Kat.
But the next piece of information is what really
pussles me:
She maybe was "here" ? What on earth does that
mean?
And the intriguing part about here being from
xxxxxxxx - did the person who put the note up add
something but then changed his mind? Did someone
else add it...
"All information is ok" - fantastic sentence...